discussion, lecture alias 45minutes. (2008 - )
: november 2011 "45min for architecture"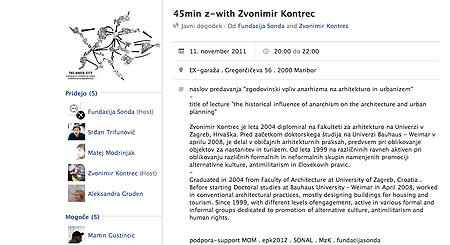 "the historical influence of anarchism on the architecture and urban planning." lecture by ZVONIMIR KONTREC
: may - june 2011 double "45min talks"

"If I knew what art is - it would not interest me any more." presentation and talk by PIRMIN BLUM

"0gms gallery - Sofia" presentation and talk by KAMEN STOYANOV and STEVEN GUERMEUR
: december 2008 series "45minutes for theater"

:teacher nr.5 - ZIGA KARIZ

:teacher nr.4 - BRANKO HOJNIK

:teacher nr.3 - NEJC SAJE

:teacher nr.2 - PETRA VEBER

:teacher nr.1 - MATEJ ANDRAZ VOGRINCIC