.about works:
_title: "Sampramiška2 - Sapramišja sre?a" (link to Vimeo)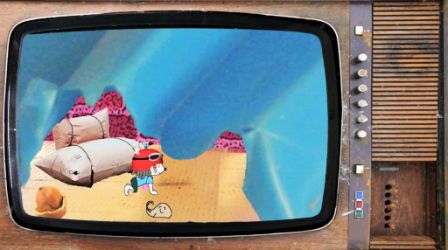 (2013)
_dur.: 29min
_authors: son:DA / matej modrinjak / nataša berk / setvala makarovi? / robert waltlt
_production: Mini teater
_about: animation film 3+
_title: "Macbeth after Shakespeare" (link to YouTube)

(2010)
_dur.: 59min
_authors: son:DA
_production: Mini Teater / 21.stoletje
_about: experimental documentary
_title: "TERROR GEGEN / UNDER ATTACK" (link to YouTube)

(2002)
_dur.: 2h 20min
_authors: son:DA / 5er B. / m.g.
_production: 21.stoletje
_about:
The following audio - visual material was recorded during 3 days, that is in 72 hours. On september 2001 an anonymous, 57 years old lady from Maribor, Slovenia, used a VCR for the first time in her life and taped approximately 10 hours of diffenrent TV programme.
"TERROR GEGEN / UNDER ATTACK" is an edited videotape at full length of 2 hours and 20 minutes, with quotations, interview, short animation and home video.
This videotape is anthropological audio-visual material which can be educational and scientific source for different social researches.
Tapes were copied and send to different individuals and institutions in Slovenia and around the world. Till now the presentation were at the dokMA(documentary film festival)2004 in Maribor, Slovenia and at Human Rights Film Festival in Zagreb, Croatia 2005.
_title: »NO.stalgija«

(2002)
_dur.: 17´
_animation and video: son:DA
_sound: ph00 / Ultra.A / eyeceeou / Samo Pecar / Andrej Hrvatin / 220.com / dj Splinter / Peter Augustiner / Miran Bauman / gran Vagus / son:DA
_puppet creator: Mihael Grobler
_about
»NO.stalgija« is an animated video(DV) film, made out of 13 different animations. They were created in the last couple of years. Animations alias short stories are connected together in one entire piece with the words that have same ending(-ism) and with moduleted slovenian etno sound. Technics of animations are different. From photography, drawings on paper, to video and puppets. Sound of all 13 tales was made afterwards with cooperation from 9 musicians of different genres. Every one of this musicians got one animation part and could freely experimented with the sound. Simple technology, manipulation of mistakes and simplicity of stories-messages(a) as a (anti)nostalgia for childhood's cartoones and the big business of the future(today's) film productions.
_important steps:
.februar.2002 / kibla–maribor–slovenia / premiera
.august.2002 / international animation festival-hiroshima-japan / projection
.oktober.2003 / festival of slovenian animation-izola-slovenia / projection
.december.2002 / festival of new slovenian film-ptuj-slovenia / projection
.august.2003 / real.presence–muzej 25.maja–beograd–srbia and monte negro / projection

_title: Raum.7

(2002)
_dur.: 1'30''
_technic: animated 4 x 35mm photos on dvd
_about
Where were you?
Have you run away or it was only outbrust of paranoia.
Come. Come.
They are all here.
All are here.
Here with us.
(room height): 4.06m
(room widht): 3.27m
_important steps:
.july.2002 / zebra-poetryfilm.festival-berlin-germany / projection(finalni programm)
.september.2002 / syracuse art space-new york-usa / projection
.october.2002 / minikino festival-kibla-maribor-slovenia / projection
.november.2003 / lumina-heilingenkreuzburg-wienna-avstria / projection

_title: Brainshifter's intro (link to YouTube)

(2001)
_dur.: 2'10''
_made by: video on dvd
_important steps:
.july.2001 / kompilacija-razstavni salon rotovz-maribor-slovenia / projection
.november.2001 / scanline - museum of modern art– ljubljana – slovenia / projection
.june.2002 / essence-kunstlerhaus-vienna-austria / projection
.january.2004 / new video,new europe-renessaince society-chicago-usa / projection
.august.2004 / new video,new europe-modern art museum st.louise-usa / projection
.october.2004 / new video,new europe-tate modern-london-great britain / projection
.august.2005 / 95_05-museum of modern art-ljubljana-slovenia / projection
_title: .DROG / .POLE

(2000)
_dur.: 8´10´´
_technic: miniDV / 8mm / VHS / 35mm on dvd
_about
the concept of experimental documentary with a title ".drog" or in english ".pole" is based on the triangel of duels. first duel is a duel of shape, a duel of form. it´s avdio part against video part.
second one is a duel of natural enviroment on the planet versus urban enviroment made by civilization. and the third one or so called "story-line duel" is a duel between disabel human being on one and electric pole on the other side. all three of them are combine into one thing, into a song or a poetry of eight minutes long which refrain and an essence we could put into one sentence. urban transformation as necessary phenomenon, as a step into natural surroundings, as a step into architectural planning.everything is black and white. the varieties among people and their ways of living are so small and so big at the same time. the connections between live human being and an death object are same times unbelievable, incredible. documentary has been shot and made in different countries of Evrope in the summer 2000. it has very different approaches to the picture and to the sound, that means the making and the meaning of them.
_important steps:
.september.2005 / 25.festival eksperimentalnog filma i videa - zagreb - croatia / projection
.november.2000 / festival architecture v video – florence – italia / projection
.december.2000 / forum.stadt.park – graz – austria / projection
.november.2001 / scanline - moderna gallery – ljubljana – slovenia / projection
.mai.2003 / HTV2 – croatian television / projection

_title: Es ist alles im Griff

(2000)
_dur: 4´20´´
_technic: animation and video on dvd
_about
about the war. about the peace. about the hansd and shake. about the things that never end. and than applause. no names. anonymous author.
_important steps:
.september.2000 / schägspur.festival-oberstdorf-germany / projection (award for video)
.october.2000 / zero analog-channel zero-metelkova-ljubljana-slovenia / projection
.december.2000 / forum.stadt.park-graz-austria / projection
.march.2001 / diagonale(grenzziehungen)-graz-austrija / projection
.july.2001 / kompilacija-razstavni salon rotovz-maribor-slovenia / projection
_______________________________________________________ more samples on 21stoletje on YouTube